Carpentry Services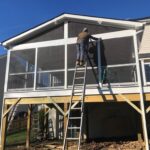 Nova Construction Pro offers high level carpentry finishes for several of the projects that may be on your roster.
Our custom built cabinets and solutions can help brighten up your space and create a rich look, replete with better storage and wood working finishes.
The list is endless- Pergolas, resin finishes on tables, bar and kitchenette installs for basements, Cornices on ceilings, Face walls with shiplap….
Call us for a free consultation